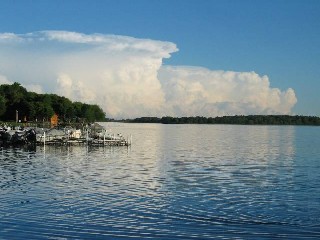 Have you heard the news? That's right, we're going back to Ten Mile Lake near Fergus Falls, MN!
I know that last year was possibly our last. When we departed last year, we still didn't know if we'd be back. But we received a letter from the resort in January, stating that they had decided to keep a few spaces for "long-term" stays and offered us a spot. It's not the same spot right next to Uncle Lewie that we had the previous years but it's a spot nonetheless. And because it's on the other side of the steakhouse across from the boat dock, it's a little more protected and might not be quite as windy. And in addition, it's closer to the boat so it might be a better spot all the way around. But who cares? It's a spot!!!
We are also doing something else a little different this year. We're taking six weeks and spending some time to get to Ten Mile Lake and see some things along the way. Our first stop is Basalt, CO, near Aspen. The Snowmagical Family Fun Festival is held there every year and we are going to check it out. And we'll have some extra time just to see the area. I hear the trout fishing is excellent and plan to give it a try.
Then we will see Denise's sister, Dianne, and her husband, Stan, and their family. Dianne and Stan moved to Elizabeth, CO near Denver several years ago and we've never seen their new home. We'll spend one night there.
Next is three days of driving as we continue through Colorado, blow through Kansas, and head into Missouri. Our schedule should put us in Kansas City, MO right around lunch time on our second driving day. This will be a good opportunity for a break and I hope to have lunch at the world famous Arthur Bryant's barbeque restaurant. After lunch we'll continue our journey north through Missouri, into Iowa, through Minneapolis/St. Paul, MN, and finally arrive in Eau Claire, WI on the third day. We're going to visit Denise's cousin Nikki and have some time to see the Mall of America and whatever else in Minneapolis.
Finally it's a one day drive from Nicki's place to our final resting spot at Ten Mile Lake on Saturday, August 6th. You can see the details of our route by clicking the "The Route" button on the left.
OK, you know the drill. Links are on the left. I'll try and post fairly often when Internet access is available but don't expect much until we get to Ten Mile Lake. Our trip begins July 24th and ends September 4th. Welcome and enjoy your trip with us (or "with" as they say in the Midwest).