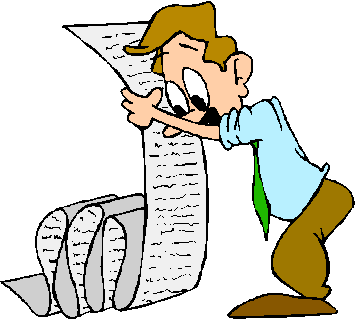 We've been anticipating this day for a long time. Denise and I departed on our annual long vacation today. The few days before and up until today have been a blur. We were both very busy getting ready for the trip. The details are too numerous to list but it involved getting the truck in and out of the body shop due to a minor fender bender, having the trailer re-attached to it's frame at RV Doctor George, Uncle Lewie arriving unexpectedly at our home on Friday, July 22 after having trouble with his motor home on his way back out of town, spending Saturday morning helping him, my web/email server crashing on same day Lewie arrived, the normal washing, packing, yard work, etc., and trying to accomplish all of this in close to record breaking heat during our last two weeks or so before departing. It's been a nightmare trying to get everything done!
But somehow after a marathon Saturday that began at 6:00 am and continued (for me) until 1:00 am Sunday morning, the trailer was loaded and packed, yard work completed, Lewie was on his way, and my web/email server limping along well enough I figured I can finish rebuilding it remotely, we were up at 5:00 am and on our way just after 6:00 am.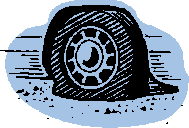 The day was going along fine until just west of Winnemucca, NV we both heard a small explosion from the rear. "What the fuck was that!?!", I exclaimed. Denise just had a look of horror on her face. I pulled over to the side of I-80 to find that one of the tires had basically exploded. Although flat, it still looked like a tire from the outside but the back of it was nothing more than a mangled mess of rubber and steel cords. But at least it was intact and didn't completely rip apart the side of our trailer like many other tires have done in their final act of defiance. And fortunately, it was on the passenger side, away from the 80 mph wind gusts that occurred every time an 18 wheeler passed.
It took me about an hour to change the tire in the 95 degree heat. Normally it wouldn't take so long but the pavement was so hot and the trailer so heavy that every time I attempted to jack up the trailer, the blacktop gave way and the jack would sink. I was finally able to jack up the trailer enough to get a thin board and another jack under the axle. The board distributed the weight enough so that I was finally able to change the tire and we were back on the road.
Our destination for the day was Wendover, UT, right at the state line between UT and NV. After getting settled we walked back into NV and played a little video poker while having a few cocktails. But even when we left the casino at around 10:00 pm, it was still overcast and about 85 degrees. Very muggy.