On The Way To Lake Louise
Monday, August 30
Poor weather again today. It started raining last night and hasn't let up. So we packed up in the rain and headed south to Lake Louise along the Icefields Parkway. We had planned to stop at Icefield Centre and take a tour of the Athabasca Glacier but with the poor weather, we decided against it, settled for a distant picture, and continued on our way.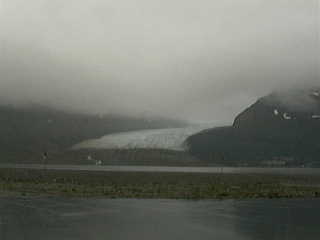 We arrived in Lake Louise around 4:00. Our camp book said that the campground (the only campground) was west of the town on Trans-Canadian Highway 1. So we headed east on the highway, only to find that was the wrong direction so we turned around and headed back. It also said to take the Whitehorse exit. Well we had gone through town and there was only one exit. Bow Parkway. So we turned around again and headed back and took the Bow Parkway exit. When we got to the top of the ramp, there was a street sign that said Whitehorse. Would have been nice if the book had mentioned that the exit was Bow Parkway.
So anyway, we found the campground. It has about 140 sites and was only about a third full. The sites are such that there is one wide driveway with picnic tables on either side. You would think that the campground staff would not put two in a driveway unless the place was full but that is not the case. So we camped in a spot with another 5th-wheel so close that I could reach out the window and touch it, literally. There was about 2 feet of space between us. You don't get to pick your own sites in Canada. They are assigned when you register.
We get set up and head for the market as we are low on supplies. Well guess what, you can't buy fresh meat in Lake Louise. They had a few frozen pieces of something green they said was meat but nothing edible. We bought a gallon of milk, a package of bagels, a loaf of crummy bread, and a dozen eggs. $14.26. Outrageous!
Next, we went to a local restaurant which did have fish 'n' chips. It wasn't the best but it worked. The rain continued.
Back at camp, it wasn't long before we realized that the campground is located adjacent to the main line of the Canadian Pacific Railroad. Trains come through about every hour or so all day and night. And of course, because they are coming into town, they have to blow their horn to warn the idiot that may have stopped on the tracks. Oh well, it's only two nights.
No dominos tonight. We're going to bed early and try and get to sleep before the next train blows through.