Jasper - Athabasca & Sunwapta Falls
Sunday, August 29
Last night during the domino tournament, a herd of elk came through the campground. There had to be 10 - 15 of them. It was quite impressive to see that many all together.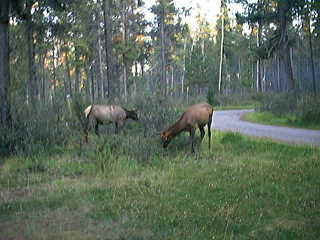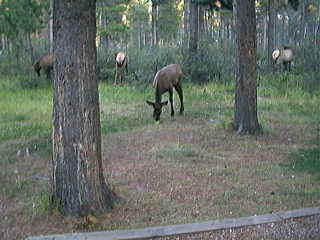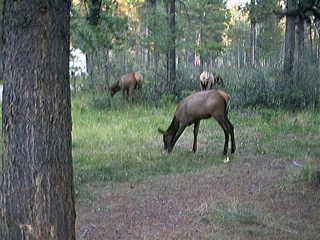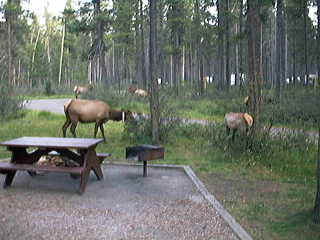 The elk went on their way and the dominos continued. Denise won the first game, making the score 4 - 4 and declared that the next game would be the tie-breaker. Funny, the duration of the tournament was never discussed until this time. But no matter, I won. To add additional fuel to the fire, I also won the next game as well, making the total score 6 - 4.
Today we head south of Jasper for a day trip. Our first stop is Athabasca Falls. It is quite impressive as the Athabasca River is forced through a narrow gorge and falls 75'. The roar is deafening and the air is full of spray.
I took quite a few pictures and have decided to include them on a separate page. Jasper - Athabasca Falls and River Pictures
Next we continued our journey south to Sunwapta Falls. These falls were nice but not as impressive as the Athabasca Falls.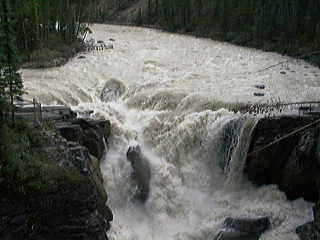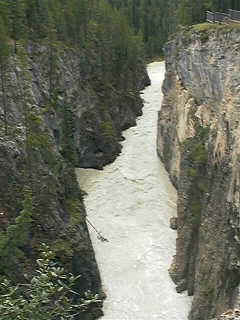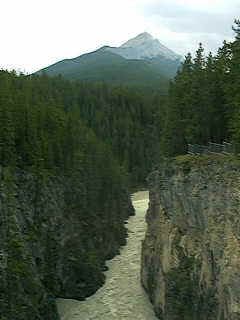 Somewhere along the way, we missed Goat Mineral Lick. Mineral deposits are irresistible to mountain goats who need the minerals in their diet. According to the park brochure, this is a place where goats frequent. We find it on our way back to camp and stop for a look. Although is is a great lookout point, there is not a goat to be found.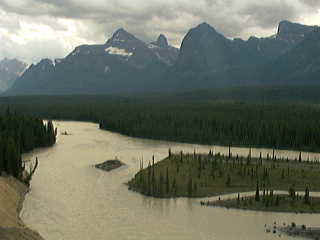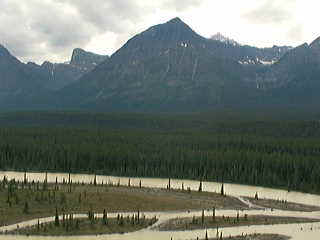 We return to Jasper in search of fish 'n' chips at the Fiddle River Seafood Co. We have been craving it for the past week and this place was recommended by a local at the supermarket a few days ago. She told us it was just 2 blocks down the road but we couldn't find it. Yesterday when I was in town uploading the web page, I found it. However, it was about 1 1/2 miles from the supermarket, not the 2 blocks we were told.
So we're excited and arrive at the restaurant at about 3:30 in the afternoon. However, the restaurant is a dinner only place and does not open until 5:00. Another detail the local didn't mention.
So back to camp for leftovers and more dominos. By time the night is over, the score is 7 - 5. I'm still winning!