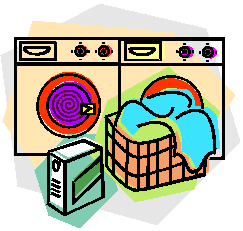 OK, today's my day to fish since I can't resume the boat trailer repair challenge until Monday. But no, the sky is grey, the wind is blowing, the rain is intermittent, and the Laundromat is open. So guess what? We spent the mid morning to early afternoon in Fergus Falls doing laundry and a bit of grocery shopping.
The chores were done and the rain stopped so Lewie and I gave it a shot on the lake. However the wind was blowing and Lewie didn't last long so we came back in empty handed after an hour or so.
Lewie fried fish for supper, I made coleslaw and gravy, and Denise made mashed potatoes. It was a community supper and a quiet evening.