Wow!!! It was 9:45 am before we woke up this morning. Almost eleven hours of sleep. Well I guess we needed it after all the walking and not sleeping well our first two nights.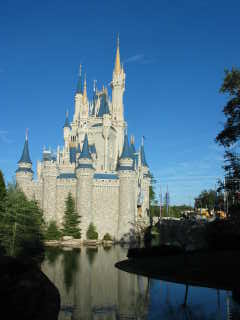 Today is much colder. Yesterday the forecast was 78 degrees and it felt steamy. Over night, a cold front moved in and today is only supposed to be about 58 degrees. It always amazes me how different the weather can be from one day to the next once one leaves California. Back to long pants.
We went to the Magic Kingdom. Because of our late start, it was already noon. We started in Adventure Land and then migrated to Frontier Land. Denise was ready to try a thrill ride and chose Splash Mountain. The warnings told us we "may get wet" but we never thought we'd get that wet. So it's cold, early in the day, and now we're soaked. Oh well, we're still having fun!
I really can't remember everything we did. We've done so much the past three days that one thing is starting to blend into the next. And our feet and legs are really sore. Every bench looks very inviting and invokes fond memories of our bench in Mexico. We saw the 3-D movie, Fantasmic. It was really good and gave us 20 minutes off our feet. We also rode the Thunder Mountain roller coaster.
Somewhere along the way, we each bought a turkey leg from the cart in Frontier Land. We should have bought one and shared it as they were huge! Denise couldn't even eat but maybe a third of hers and I was quite full after finishing mine. And those stupid white birds love turkey. We were accosted to point where I began kicking them. I don't think I ever actually kicked one because they could move very quickly but they were sure insistent.
After our late lunch (or more like early dinner), we browsed around a bit more. We really wanted to stay and see Spectromagic, a parade of lights at 8:00 pm and then the fireworks at 9:00 pm. Spectromagic doesn't happen every night and with our schedule, it's kind of "now or never". But my feet were really tired and my attitude was degrading. It was really getting cold and that added to the discomfort. Denise went back to one of the shops where she'd seen a sweatshirt she liked and bought it just to try and keep warm. I'd buy one myself but the stores just don't carry a 4XLXT (4 extra large, extra tall).
It was about 7:10 pm so we found a good spot along the parade route and staked out our space. There was no bench only a low railing to lean against. Hey, look who's next to us! It's the couple from Louisiana. That helped us pass the time and take our minds off of our feet and the cold.
The parade was great and we're really glad we stuck it out. However we've seen lots of fireworks in our life and were not willing to stay for those. So back to our hotel where we bought food at the food court and headed to our room to get off our feet and warm up. It was 9:00 pm.