We've decided to visit Epcot Center today. It was a rough night and neither of us slept well. By 6:30 am we'd given up just laying there and decided to get up.
The Port Orleans Resort is not like a normal hotel where all the rooms are in one building close together. It's laid out to be like the southern mansions along the Mississippi River. There's the Sassagoula River (means Mississippi in one of the Native American languages) that runs through the property. Along the river are mansions. Each mansion appears to have two floors and the rooms are in the mansions. Across the river is the main lobby, bar, restaurant, general store, and food court. Thus, the walk from our room to the main area has to be at least a quarter mile.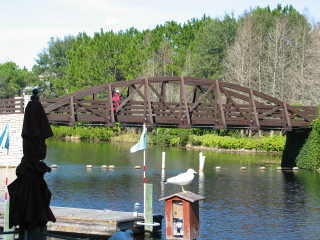 We both wanted coffee and there's no room service so I put on my slippers and head to the main lobby. The food court seemed like a good place to start. Over $30 later, I had two cups of coffee and two danish rolls. No, wait! It's not as bad as it sounds. I bought two refillable mugs for $11.99 each. These mugs can be refilled for the duration of one's stay with any drinks from their fountain (coffee, tea, soda, hot chocolate, etc.) so I thought it was a good option.
After the morning ritual, we were on our way to Epcot by 8:00 am. The Disney transportation system is great! We caught a bus right in front of hotel and it dropped us off right at the front gate. Our room key is also our park pass. In fact, the call it the key to the kingdom. It. Is also our charge card, bus pass, and anything else we might need.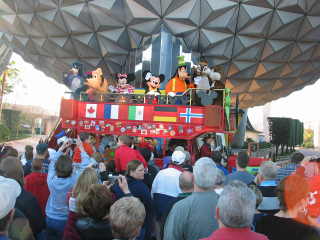 We were greeted by a car full of all the Disney characters. Then the gates were opened. First stop: Mission Space. I enjoyed the ride but it didn't live up to the hype. I was a little concerned about fitting but there was lots of space. I couldn't believe there was that much leg room! And then they closed the doors And the leg room began to disappear. (insert description of ride and cockpit)
Next, I rode the GM test track. It was a simulation of the various tests through which new cars are put. Acceleration, braking, cornering, temperature extremes. It was kind of like a mild rollercoaster. Denise walked through the line but didn't ride. Now she wants to try it on another day.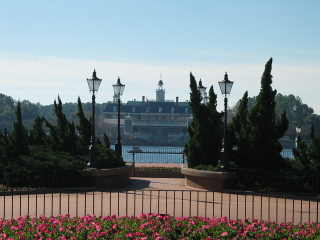 From there, we browsed some shops and started making our tour of the world showcase. It was nearly 11:00 and the cheese danish had worn off so we started in Mexico with some nachos and margaritas. Well actually Denise had the margarita and I had a diet coke. We took our items and sat down at a table on the patio and were quickly accosted by birds. Seems they like nachos as well. These birds were literally at our feet and we had to keep kicking them away. Then they sat just out of our reach and squawked, scolding us because we weren't sharing.
Denise kept raving about how good her margarita was so I finally decided to spend the $8.00 and have one myself. It was good. Real good!
We worked our way around the showcase, visiting the various "countries". However I didn't see anything real exciting about it. Just a lot of shops. The World Showcase is situated around a large lagoon and we walked around the entire thing. I don't know how far it is but one can board a water taxi to get from one side to the other so it's pretty big. One of the last countries was the United Kingdom. We decided to take another break there and share some fish and chips and a few pints of pub ale. Good stuff. And our feet really thanked us as well.
From there we reentered Epcot's Future World. We really enjoyed the 3-D movie, Honey, I Shrunk The Audience. We also toured The Lands where Epcot scientists are experimenting with various ways to grow food in less space. And finally we visited The Living Seas (dumb) and Spaceship Earth before heading back to our room. It was about 5:00 pm.
We rested and then cleaned up before going out for dinner. We didn't really know where we wanted to eat but we knew we were ready for "real food" since we didn't eat much yesterday and eating "junk" today. We decided we'd take the water taxi from our hotel to Downtown Disney and find something there.
The water taxi ride was neat but since it was night, we couldn't see much. It was also very cold on the water so we couldn't wait for the 25 minute ride to end. And of course I wasn't even smart enough to wear long pants let alone bring a coat.
The water taxi let us off at the West end of Downtown Disney. We walked the strip and finally settled for dinner at the Rainforest Cafe. I've eaten at Rainforest Cafes in Southern California and thought they were OK but this one was a zoo! Oh well, we found a spot at the bar and figured once we were seated, things would be better. Besides, our feet were really sore from all the walking. Staying put seemed like the best choice.
We were herded in like cattle. I've never been to a restaurant where they seat you 20 or 30 at a time. The seater "barked" that everyone needed to follow him and follow closely or else they wouldn't get a table. That should have been our first clue. Then there was a noise level that made the Indy Speedway seem as quiet as a library. Just too many people crammed into too small of a space. Denise's steak was burnt. Mine was raw. Terrible, terrible, terrible place. Anyway, we chalked it up to experience and headed back to our room for some much needed rest.