Well the big day is finally here! I'm kind of nervous about how I'll fit on the plane but one way or another, I'm going. I called America West Airlines the night before and explained that I am 6'10" and don't fit in the seats. The customer service rep was able to reserve an emergency exit row seat for me. Previously, I was told that an exit row seat could not be assigned until check-in. Things are looking up!
My brother took us to the airport and we arrived at 7:00 am for our nine o'clock flight. I inquired about an upgrade to first-class. The cost was only $150 to upgrade but unfortunately all the seats were full. The service rep said she'd put us on the standby list for first-class.
So with our luggage checked and boarding passes in hand, we worked our way through the security checkpoint. Denise passed through on her first try. I emptied every metallic item from my pockets (change, keys, pager, etc.) but still didn't pass. Must be my belt buckle so I removed it and tried again. Nope! Now for the strip search.
I removed my shoes and the security officer proceeded to use his "magic wand". Well guess what? The foil on the inside of a pack of gum was the item setting off the metal detector. Seems pretty ridiculous to me but whatever, at least I got through.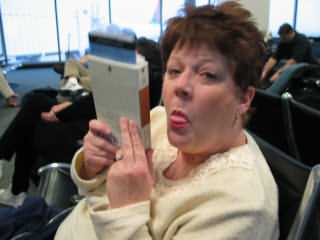 So now the waiting game. We both sat there, reading our books. Denise particularly enjoyed hers as you can tell. Anyway, just before they were ready to start boarding, I was paged to the counter. Lucky me! A first-class seat was available for the trip from Sacramento to Phoenix and they didn't charge me any extra.
The flight was uneventful. We landed in Phoenix on schedule and had just enough time to have a hot dog before boarding our flight to Orlando. No first-class upgrade for me on this leg but at least I had an exit row. It wasn't too bad. And thank goodness for in-flight movies. It was the best $5.00 I ever spent!
Because of the time difference, the sky changed from full daylight to full night in just an hour or so. It was weird to see it happen that quickly.
We landed in Orlando just after 7:00 pm but by time we got our luggage, caught our shuttle, checked-in, and were in our room, it was nearly 10:00 pm. Needless to say, our patience was wearing thin. And I'm sure that being hungry didn't help. The only thing we'd eaten was the hot dog in Phoenix and a couple of those little bags of peanuts they give you on the plane.
We went to the restaurant at the hotel. It was late and I'm sure we got the food that had been sitting on the warmer for the past two hours but it worked. At least the beer was cold and the gimlets were strong. In the bar in the next room, there was a piano player performing. Sounded like a lot of fun as he was playing songs which everyone knew the words and were singing along. However we were just too tired and not in the mood for it after our long day. Why does just sitting in an airplane make one so tired? We decided we'd see him another night.
So back to our room to get some rest. After all, it's already 11:30 pm.