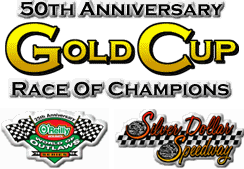 Well we did something different this weekend. Denise and I went to the World of Outlaws Gold Cup. This is the most prestigious race for the professional sprint car racers. I don't know that much about racing but I enjoy going to the tracks and watching. Denise wasn't too sure about this but was willing to go because I wanted to go.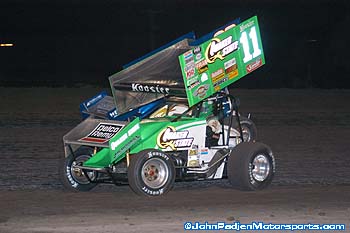 My aunt and uncle are avid race fans and attend this event every year with a group of friends. Last year on the tail end of our vacation, we met them for a few days of camping near Bridgeport, CA. It was during this trip that we agreed to go to the Gold Cup. After all, it's such a popular event one has to get reservations nearly a year in advance so we figured we should at least try it.
The camping reservations are for 6 nights, so we could have arrived as early as Monday. However there's no racing until Wednesday and that's just the locals. Plus camping in the Chico Fairgrounds is not really a premium spot. In addition, we only get so much vacation per year and have to pick and choose when to use it. With all of these considerations, we decided not to go until Thursday, the first night of Outlaw racing.
We arrived Thursday afternoon around 3:00 and had everything pretty well set up by 4:00 pm. We met Jim and Ann, and their friend Neil. This was our subgroup for the weekend. Because the races start at 7:00 pm, the group eats around 5:00 so they can be in their seats by 6:00 or 6:30. Fortunately for us, the group prepared dinner so we didn't have to do a thing that first night which was really nice. Gerry barbequed tri-tip. Neal and Jim deep fried zucchini, mushrooms, and onions. Darlene and Ann had salads. It was an excellent meal.
The races were fun but we quickly learned how dirty a dirt track really is. In the beginning, the track is still fairly wet so the cars fling mud as they make each turn. However we were in a pretty good position as our seats were in the middle of the straightaway about half way up so we didn't get too much mud.
But later as the track dries out, there is no avoiding the general dust that's generated as 26 cars race on the 1/4 mile track at speeds exceeding 120 mph. Many experienced fans bring safety goggles to protect their eyes. Because Denise was wearing her contacts, she was having an extremely difficult time with the dust. Luckily Darlene had a pair of safety goggles she shared.
The races finish around 10:30 pm and that's when the party really gets going. On Thursday night there was a sock hop in the pavilion. On Friday night was a chili feed and bikini contest. Although we didn't attend either of these events, the general party in the camping area was good. We were up until 2:30 am on Thursday and 3:30 am on Friday. After the Saturday night races, there's no events and the party is not as intense. We went to bed early at 1:00 am.
The days are spent relaxing, walking around looking at race cars, or whatever one wants to do. On Friday, Denise and Darlene browsed the items at a swap meet on the fairgrounds. Gerry and I cruised around town and watched the teams preparing their race cars anywhere there was enough room to park their huge race haulers.
On Saturday, we just cruised the fairgrounds, people watched, and viewed the race car that was mysteriously placed in the stands sometime the previous night. No one will admit to participating in the prank but it was a sight to see.
So as it turned out, Denise really enjoyed the races as well. We both had a good time and have already agreed to go again next year.