It's a shorter day today as we only have 324 miles to cover. We planned to stay close to Bridgeport for our last night on the road so that we could arrive early in the day. The Carson Valley Inn located in Minden is only about 76 miles from Robinson Creek Campground where we're staying near Bridgeport. Plus it's one more night in Nevada where we can enjoy all it has to offer.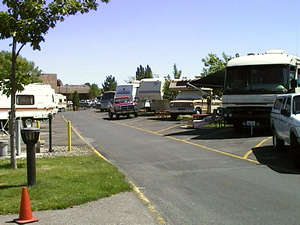 The spaces are close but the accommodations are adequate and will serve our purpose. Because there's hook-ups, we can ensure our batteries are fully charged, our fresh water tank is full, and our sewer tanks are empty before spending the next 4 days in Bridgeport.
We enjoyed another evening of video poker and music at the cabaret bar. The first group started at 5:00 pm and was really good. I think the second group that started at 9:00 pm was good too but I don't really remember so I asked Denise. She doesn't even remember hitting her second and third straight flush, only her first. It's a good thing we don't have too far to go tomorrow as I think we'll be sleeping in.