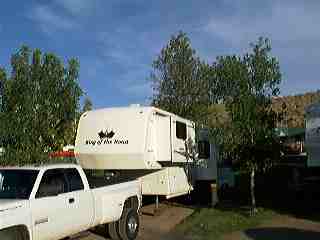 We got an early start and were on the road by 8:30 am. I don't know what else I can say other that driving through Wyoming is very boring. The only good part is that I was able to maintain 70 mph for most of the trip.
Denise wasn't feeling too well and slept most of the way. Since she was sleeping, I just continued to drive and drive and drive. We ended up going nearly 500 miles and made it all the way to Cody, WY.
We're staying at the Ponderosa in downtown. It's very nice as far as RV parks go. There's space between the camps with trees and grass. We only intended to stay one night but the people in the office have told us that there's several things to see and do in the area and gave us many brochures. So we may stay two nights.