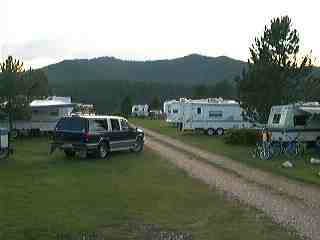 Today is much better. We slept in a little and didn't have to get up and rush to pack. We sat outside and had our morning coffee. While we were out, we started talking with some of our neighbors and got some information on the area.
Our first stop was Crazy Horse Mountain. According to the pamphlet, just 4 miles down the road. According to a sign we saw once we got about a mile down the road, 5 more miles. The truth: about 10 miles down the road. I don't know how these people measure distance. (And we found many more instances of this during the day).
Anyway, Crazy Horse Mountain is a project started back in the early 1940's by a Polish sculpturer at the request of an Indian chief. When completed, it will dwarf Mount Rushmore in size and be a carving of Crazy Horse sitting on a horse and pointing toward the lands where his people are buried.
Next we drove into the town of Custer and looked around. Didn't find much of interest but we did stop at a visitor information center and picked up a lot of literature.
From there, we decided to stop at our trailer and have some lunch before heading to Mount Rushmore. Now here's another example of the area signage. No sign to take SR-244 to Mount Rushmore coming from Custer. No, 5 miles north to Hill City before turning east on 16A to SR-244 south to Mount Rushmore. Another 10 miles or so further than one needed to travel.
If you ever come here, I suggest seeing Mount Rushmore first. After seeing Crazy Horse, Mount Rushmore looked small and unfinished. OK, Crazy Horse is unfinished as well but at least they don't say they're done. And one can see the potential of Crazy Horse. Mount Rushmore looks like the finished George Washington but then gave up on the rest. But there is some show at night where they have a presentation in the outdoor amphitheater and then light up Mount Rushmore. If it ever quits showering, we will do that and see what it's like. Afternoon thundershowers seem to be the norm here.
From Mount Rushmore, we went to Bear Country, U.S.A. near Rapid City, SD. It is a drive through wildlife park and was good for an hour diversion. Although the park has many different animals, the bears were, by far, the most interesting. We took several pictures here but because we had to stay in our truck with the windows up, none are very close.
And then finally, we went the last few miles to Rapid City and had dinner at a place called Sanfords. We tried an appetizer recommended by the waitress. Deep-fried pickles. I know it sounds weird but it was actually pretty good. Imagine mozzarella sticks but instead of cheese, dill pickles and there was ranch dressing for dipping.
For dinner, Denise enjoyed a "Bahama Mama" sandwich which was a grilled chicken breast, ham, cream cheese, and pineapple ring on a roll. I had chicken fried steak which was served (literally) on a 16" pizza pan complete with beans, corn fritters, and french fries (aren't you supposed to get mashed potatoes?). The forks were the size you would normally use on a serving plate. So were the spoons. Neither one of us could finish. It was an unusual place where just about every square inch of the walls was covered with some sort of junk; car rims, old license plates, old signs, etc. (Maybe that's why there's no signs on the roads?). In the bar area, the chairs were "hands" with the palms as the seat and the fingers as the back. An interesting place that we may go back to again before we leave.
Sanfords marked the end of our day. Tomorrow, we are moving to Oreville National Forest campground just a little ways south of Rafter J Bar. Rafter J Bar is $32 per night and is nothing more than a RV parking lot with a view of the mountains. The Oreville campground is only $16 per night and the host agreed to reserve site 8 for us (we can fit there) even though he's not supposed to.