Happy anniversary to us!
We feel good today after our early evening and getting a good night's rest. We got up and going fairly early and headed out to the Animal Kingdom Park.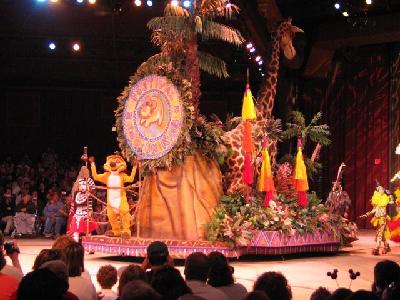 First we saw the Festival of the Lion King show. It was held in a round venue much like a large circus tent. Seating was available almost all the way around the circular stage. It was a high energy show filled with song, dance, and acrobatics and it was interesting how the stage always had performers facing out in all directions so that the entire audience was involved at all times.
We also enjoyed watching the 3D movie, "It's Tough to be a Bug". It's filmed from a bug's perspective and was quite humorous. It' was also interesting in that they used smells in this theater to add reality to the show. When the stink bug sprayed, you knew it!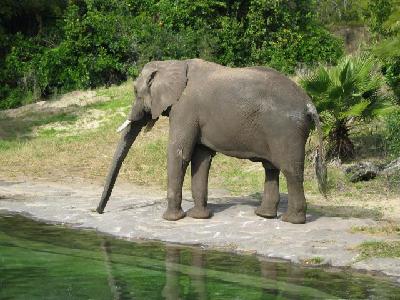 There were rides. We took a safari in a Jeep, rode through a jungle river in a raft, and took a train around the park. One Part of this place is like an zoo except that the people are in "cages" (rafts, trains, and Jeeps) instead of the animals. It's a different way to see the animals.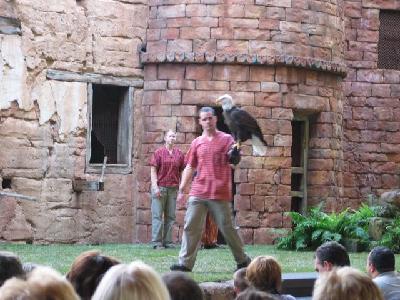 The other part of this place is animal shows. If you're familiar with Sea World in San Diego, CA, then it's like a jungle version of that. We saw a bird show, a snake show, crocodiles, etc. We had a good time.
For our anniversary dinner, we decided to use our coupons for Planet Hollywood that we received as part of our package. Neither of us had ever been to Planet Hollywood before so we figured we'd give it a try. Although not quite as bad as the Rain Forest Cafe, it wasn't the most pleasant dining experience. It's a huge sphere, completely wide open. There were large television monitors all over the place playing music videos. The noise was just about unbearable. Definitely a place for the younger generation. It didn't really suit us old folks that just wanted to have a quiet dinner.