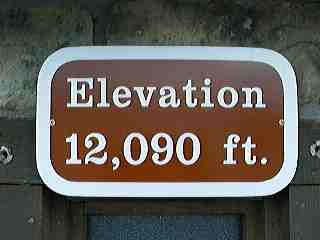 Today, we took a drive through the park. The main road running through is Trail Ridge Road (US-34) which rises from Estes Park at around 7200 feet to over 12,185 feet at the peak (you can't stop right at the summit). It was a nice drive with spectacular views. I shot several pictures at various stops along the way.
After we descended the western slope, we found a national park campground called Timber Creek. This campground has several spaces in which our trailer can fit and water is located throughout the park. Additionally, space is available now and all the way through the Labor Day weekend. But there are a few problems with moving.
The first is the fact that we have already paid for 7 nights at Mary's Lake and we don't know if they will refund our fees if we leave early. Many RV parks will not refund money which is why I hate paying very far ahead.
The next problem is that Rocky Mountain National Park has a 7 day (which they interpret as a 6 night) stay limit in the Park as a whole. I don't know if it's enforced only when the campgrounds are full (which would make sense) or if it's enforced regardless of available spaces (which would be stupid but not surprise me since the National Park Service is a government agency).
And the final problem is that I don't know how hard it will be on the truck to tow the trailer over the mountain. There's no signs but I guess that it's a 6% - 8% grade but it's a long grade filled with 15 & 20 mph curves. So to travel the 40 miles to the campground safely, it will take around 2 hours of hard duty for the truck which will likely cause overheating. The shortest route around the Park involves going all the way to Denver before turning west on I-70, crossing the Continental Divide, and then turning north and entering the Park from its southwest corner. Of course this route is over 180 miles.
Thus we don't know what we're going to do at this point. We need to find out if we're stuck at Mary's Lake or forfeit our money. Then we have to decide if we want to go anyway or wait until after Labor Day. Or maybe we won't go at all and see what other parts of the Rockies may interest us. As far as I can tell, we saw most of the Park on our drive, short of going on day hikes. Flat walks we would do but even the "easy" trails are up to 3 mile hikes with up to 1000' gain in elevation, more than we're willing to take on at this altitude. And it seems that we're not the only ones affected as many times during our drive, I've overheard others complaining of dizziness after only a short walk across the street from the parking areas to the overlook areas. So maybe we want to see Aspen, Boulder, or whatever. We need to do some research.