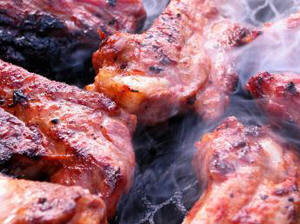 I barbequed about 15 lbs. of pork shoulder for a family gathering at our home. Knowing I'd need about a gallon of BBQ sauce and being the cheap guy I am, I searched the web for a sauce recipe.
I knew I wanted a tomato based sauce and not the vinegar based sauce some BBQ restaurants serve. In my search, I learned that traditional North Carolina style sauce is vinegar based while Western North Carolina (Piedmont) style adds tomato.
I made this Piedmont style sauce and it was wonderful! I don't think I'll ever buy bottled sauce again except for the convenience factor in certain situations.
Western North Carolina (Piedmont) Style BBQ Sauce
1 C ketchup
1 C water
¼ C apple cider vinegar
1 onion chopped fine
3 cloves crushed garlic or 1 clove elephant garlic from Gilroy, CA
2 Tbs. brown sugar
2 Tbs. molasses
2 Tbs. dry mustard (Coleman's English double fine is good)
1 tsp. cayenne or one fresh cut into ringlets seeds and all.

Combine all ingredients and simmer for twenty minutes over low heat.
Notes: The recipe as described produces a fairly thin sauce which was great for pouring over the pulled pork. However, I cut the water by half to make a slightly thicker sauce for serving on the side and that worked well.
Recipe found at http://www.biggreenegg.com/recipes/pork/NCpulledPork.htm